Pricing
THE ONLY KENAI WEDDING VENUE TO SAY VOWS DIRECTLY ON THE RIVER BANK….
New CUSACK'S ON THE KENAI 3 DAY WEDDING PACKAGE
4th night free if available
2022 Price:
$7,500 + 3% local tax
-$1,000 discount for Locals or Sourdoughs
-$1000 for 20 attendees or less
Refundable Cleaning Deposit $1,000
(Price not including July and August, ask about July and August Weddings)
-$2000 Indoor Winter Wedding for November, January, February, March, April up to 50 ceremony or reception guests
20-30 Guest-Stay/Lodging*
For up to 150 Ceremony or Reception Guests**
Tables and Chairs Provided with set-up***
Variety of Arbors/Alters Provided for lawn or riverbank areas****
BOSE S1 PRO SYSTEM Stereo w/ Smart-phone & Bluetooth connection (with Karaoke)
Beautiful lawn overlooking the river for 40 ft X 40 ft tent (not included)
Spit Spot WiFi on the entire property
Platform Bank Fishing
Hot Tub on Deck overlooking Kenai River
Bride & Groom choose a suite with Japanese Soaker Tub or Roman Bath Tub
Game room w/ Pool Table, Darts, Virtual Reality, DirecTV in all rooms, 8 log cornhole games
Free Wedding Decor left from prior Brides-we ask you to leave what you won't ever use again, too, for the next Brides-to-Be if you so desire! We already have plenty! 85 Log Cut Wooden Plate Chargers available if using linens. Decorating is not included
*18 beds in 7 rooms all with private bathrooms….with a variety of sizes: 4 Kings, 5 Queens, 3 Fulls, 6 Twins
**more 101-200 Guests add $500, plus price for table and chair rental depending on amount of guests over 150
***table linens are not included, set up is for tables with chairs-if desired for the ceremony, chairs will need to be moved by party
****Caribou antlers, cut tree stumps, whiskey barrels, wooden arbors, etc for Vows
Rod use available with credit card deposit
Ample Parking available on street and parking lot. Kitchen with commercial stove. Walk-in Refrigerator and Walk-in Freezer
We set up but do not stay for your privacy, however, we are on-call for emergencies unless requested in advance.
Contact:
Shane 907-394-1120
Jenny 602-421-0006
Lodge 907-260-5420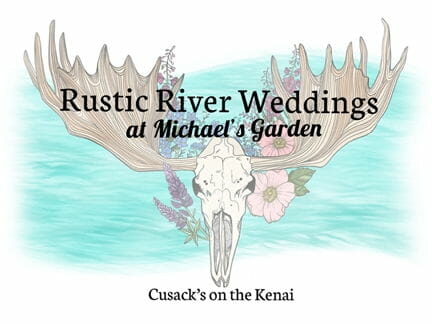 What better place to start the adventure of your new married life than a beautiful Alaskan perennial garden? Michael's Garden is a beautiful and flourishing garden located on the grounds Cusack's On The Kenai, a local bed & breakfast run by the five Cusack sisters and daughters of the late Michael Cusack, M.D.
Designed with the help of local gardening expert and nursery owner, Bobby Jackson, Michael's Garden is a refuge from the everyday hustle and bustle, and a place where visitors can enjoy the tranquility and beauty of nature. Established in memory of Dr. Cusack, this garden represents his endless love for the outdoors, his incredibly generous nature and his heart of gold.
Whether for a wedding, a special event, or just a visit to enjoy the serine environment, Michael's Garden is truly heaven on earth!
Our beautiful lodge on the river offers the most amazing wedding venue that Alaska has to offer!
Outdoor Summer Weddings to 200 Guests
Winter Weddings to 60 Guests
We are the newest wedding locale out and are dedicated to giving you a truly memorable 5 star quality venue that you & your family & loved ones will rave about and remember for a lifetime. From our huge sprucewood logs that are breathtaking which will leave you in awe upon arrival, to our flat lawn on the water's edge that is unique to us as we are literally the ONLY wedding venue who can offer the bride and groom a place to say their vows directly on the bank of the Kenai River.
We also stand alone in that we offer weddings outside of hunting season and are open year round.
There are 7 bedrooms in the main lodge. Each comes with its own private full bathroom. There is one more full bathroom on the main floor for guests to use – as well as guests staying in motorhomes.
We offer some free wedding perks with every package
a beautiful rustic wooden pallet bar
100 cut log dinner plate chargers
custom made log cornhole game
guest book sign in "sign"
We have a beautiful carrara marble "almost" commercial kitchen which all chefs love to cook in, as well as a walk-in refrigerator for all of your catering needs. We also have a large walk-in freezer for any fish caught or keeping your wedding cake frozen until the exact time to pull it out if needed.
Our luscious green lawn on the river can a hold 40 x 40 tent or bigger
Activities are one of the many things we also offer to keep you as well as your guests entertained including an amazing game room with a pool table, darts, virtual reality, a huge DVD selection, and guest computer/printer.
Look & Book